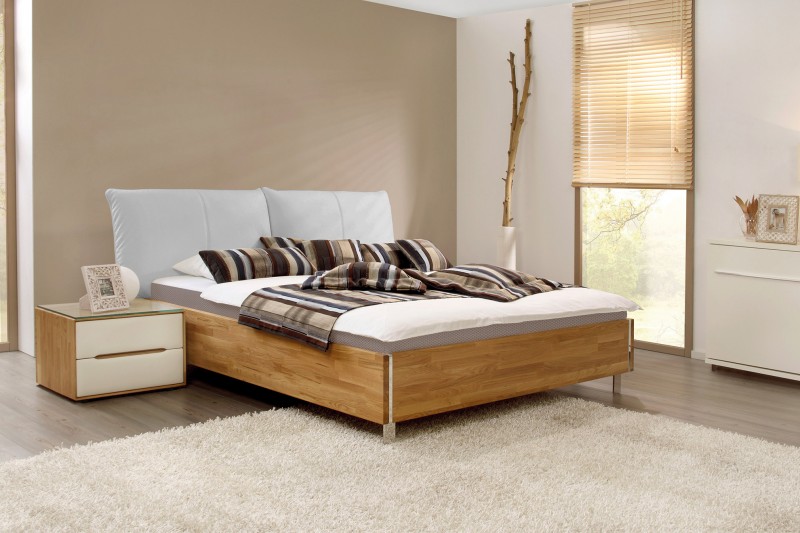 Prices incl. VAT, kostenloser Versand
Delivery time 30-44 Workdays
Product information "ADA premium bed frame model Royal Oak"
ADA premium bed frame model Royal Oak
Brand: ADA quality furniture Made in Austria
Material: microfibre fabric / type of wood: solid oak wood, ecru, oiled
Colour:
Dimensions:
Width: 197 cm
Height: 104 cm
Depth: 203.5 cm
Mattress cover height: 41.5 cm, total 55 cm
Reclining area shared: 150 x 200 cm
Product details:
Bed frame: RO50, three-sided solid oak wood, ecru, oiled, corner joints with metal appliqués
Head piece: RO04 microfibre fabric with foam cushioning and fleece padding cover, style of the back part: liner
Incl. 2 x 80 x 200 x 20.5 cm mattresses Thermo-Soft Comfort
Royal Oak BED FRAME MODEL
Classy solid oak wood elements provide security, and create a comfortable and healthy indoor climate.
Since about 60 years, the traditional company ADA with its top brand ADA AUSTRIA premium stands for the highest quality and individual design, for top-notch seating and sleeping furniture, and for solid craftsmanship from Austria. Beginning as a small rope factory in Styria, ADA is today among the most renowned furniture manufacturers in Europe.
Furnished with Thermo-Soft mattresses, which perfectly adjust to the shape of your body facilitating tension-free, deep and restful sleep. The pressure-relieving properties turn this bed frame model into a sleeping paradise that invites you to dream.
Head piece also available in faux leather or high-grade fabrics in every colour. We'll gladly consult you on your selection.
Customer evaluation for "ADA premium bed frame model Royal Oak"
Write an evaluation
Evaluations will be activated after verification.