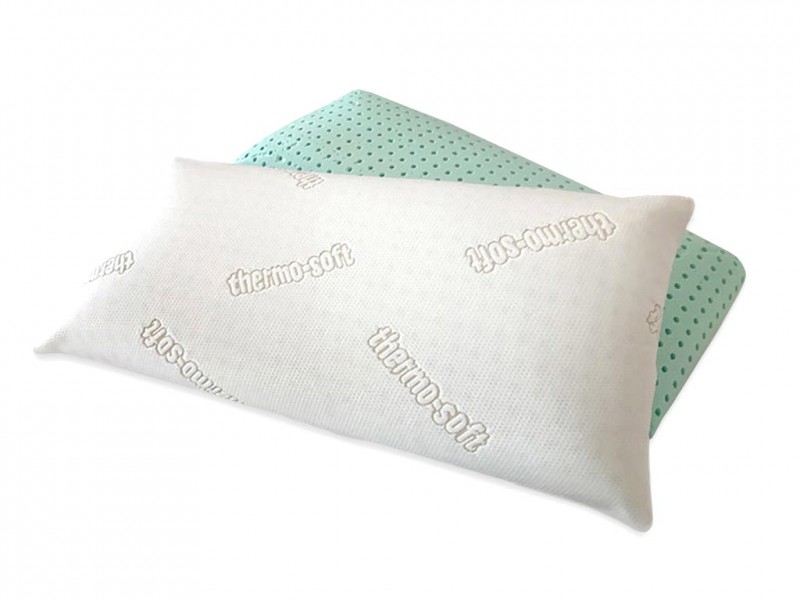 Prices incl. VAT, kostenloser Versand
Delivery time approx. 5 working days
Product information "Visco cushion Large"
Visco Thermo-Soft cushion 80 x 42 x 12 cm, 100% visco-elastic Thermo-Soft foam with vertical air conditioning ducts for perfect climate properties.
This cushion provides support and is cuddly at the same time for a gorgeous night's sleep.
Cover: cotton double cloth ANTI-ALLERGY, removable by zipper, washable up to 60°, allergy-neutral certification in accordance with Öko-Tex standard 100
Customer evaluation for "Visco cushion Large"
Visco Kissen Large
Tolles Kissen, habe immer Probleme mit dem Nacken. Dieses Kissen gibt super nach und man hat keine Nackschmerzen, kann dieses Kissen nur empfehlen.
From:
U Mecklenburg
Bestes Kissen
Das Kissen ist das beste was ich bisher hatte. Man schläft gefühlt wie auf Wolken.
From:
Jamie
Passt perfekt
Das Kissen passt perfekt zur Matratze - in jeder Position finde ich es angenehm.
From:
Daniela
Bin sehr, sehr zufrieden!
From:
Christa Grabher
Sehr gut
Ich schlafe sehr gut auf dem Kissen!
From:
Carolin Freywald
Schnelle Lieferung, sehr bequem
Das Kissen war nach zwei Tagen bei mir. Ich schlafe seit dem ich das Kissen habe sehr gut und habe keine Nackenschmerzen mehr. Ich glaube mehr braucht man zu einem Kissen nicht sagen.
From:
Grützmacher
Schnelle Lieferung. Hervorragendes Produkt
C6a6b
From:
Jaap Goedhart
Top
...schon das 4. Kissen für "Kind" zum studieren gekauft. Unverändert top quali - kein chemischer Geruch und top Lieferservice. Preislich ebenso im Vergleich mMn sehr gut. Habe meines seit ca 10 Jahren u es ist quasi genauso gut wie das neue sprich nachhaltig beständiges Kissen.

From:
Harald
Ich bin sehr zu frieden
Ich habe mein altes , vorgeformtes Nackenstützkissen erneuern müssen und habe meine Wahl nicht bereut. Ich benötigte auch keine Umgewöhnungszeit und habe weiterhin keine Beschwerden. Das Kissen hat eine sehr gute Stützkraft, ist aber nicht fest und fühlt sich nicht "brettig" an.
From:
R. Zimmer
Ich liebe es
Ich liebe dieses Kissen und bin sehr glücklich damit.
From:
R. Brötzmann
Gutes Kissen nur größer kann es sein.
Das Kissen ist super nur wäre es toll, wenn es das auch in 80x40 wie Standard Kissenbezüge geschnitten sind geben würde, es muss auch nicht unbedingt 12cm dick sein eine dicke von 8-10cm reicht schon aus.
Vielleicht berücksichtigen das die Hersteller, da nicht jeder immer auf der Seite schläft.
Mein Vorschlag, 2 Varianten 80x 40 eine in dieser dicke und eine mit 8 oder so.
Empfehle es auf jeden Fall weiter!
From:
Huber
Kissen kann ich nur weiterempfehlen
Das Kissen ist sein Geld wert, passt sich sehr gut an.
From:
K.Breitenbach
Super Kissen
Das Kissen passt sich sehr gut an und stützt angenehm
From:
Waltraud Schneider
Super Polster
Ich habe schon einige Jahre von Visco die Matratzen, daher wollte ich auch den Polster dazu, bin sehr zufrieden damit
From:
Waltraud Schneider
Top!
Super Kissen! Endlich das Richtige!
From:
J.S.
Sehr zu empfehlen.
Habe jetzt das richtige Kissen gefunden. Das Kissen ist perfekt bei Problemen im Schulter-/Nackenbereich. Die Größe von 80 cm ist optimal. Sehr angenehm darauf zu liegen.
From:
Bütow
Super Kissen passen sich gut an
Kissen sind der Hammer, passen sich perfekt an schlafen seit 2 Wochen drauf. Kann sie nur weiter empfehlen.
Als nächstes werden wir uns eine Matratze kaufen.
From:
Daniel Biermeier
Super Körperanpassung und maximale Entlastung
Das Kissen ist sehr anpassungsfähig und weich,also wirklich entlastend für Kopf und Nacken.Meinem Mann ist es aber zu groß und zu sperrig,da er kleine Kissen liebt.Dies sollte man für sich persönlich vor dem Kauf gut überlegen,ob eben grosses oder kleines Kissen.
From:
Schaarschmidt
Sehr gutes Kissen
Das Kissen passt sich sehr gut an Kopf und Nacken an die Stützkraft ist optimal.
Egal ob in Rücken oder Seitenlage, das Kissen Passt!
From:
Huber Mario
Write an evaluation
Evaluations will be activated after verification.