Slatted frame with motor-driven adjustment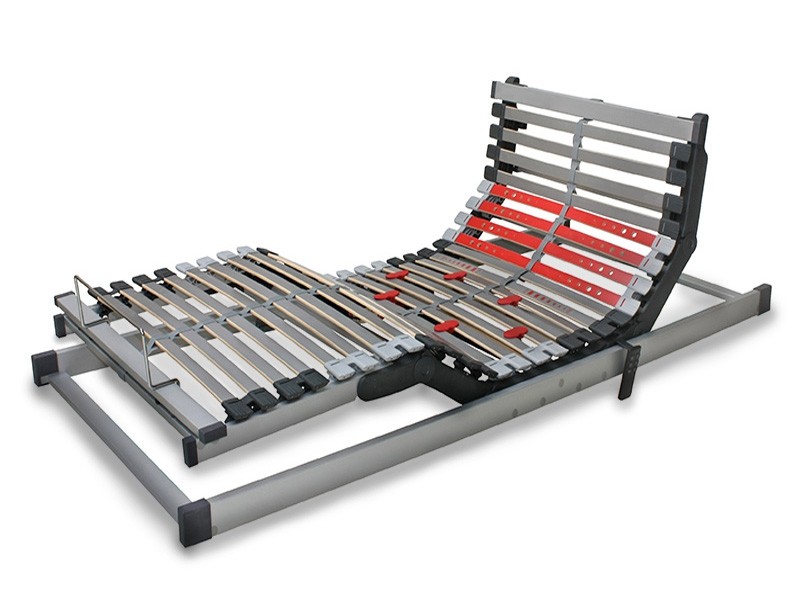 Prices incl. VAT, kostenloser Versand
Delivery time 20 - 30 Workdays
Product information "Slatted frame with motor-driven adjustment"
The construction of the frame with flat design additionally offers better use of the storage room under the bed!
Slatted frame with perfect springing thanks to the high-quality, beam-overlapping caps. Motorized adjustment via two motors for comfort and relaxation in the bed without having to get up.
Seven anatomical zones support proper distribution of body weight on the mattress. 28 strips ensure the stability and load-bearing capacity of the slatted frame. The mattress holder prevents slipping of the mattress forward when the slatted frame is adjusted.
Automatic cut-off plug when motor is idle for a longer period of time, guarantees the conditions for good sleep (absence of electromagnetic field). A 9-volt battery facilitates emergency lowering of the slatted frame into its home position in case of power blackout. Easy cleaning thanks to the foil surface of the strips. Recommend for persons up to 130 kg, height of the slatted frame approx. 10 cm with motor, 5 years guarantee
All further sizes on enquiry.
Customer evaluation for "Slatted frame with motor-driven adjustment"
Lattenrost ist stabil, einfach zu bedienen, zuverlässige Motoren.
From:
Uwe Kröger
Write an evaluation
Evaluations will be activated after verification.